The S.R.P.S. has launched a fundraising appeal to refurbish its rake of mark 1 coaches to keep them on the mainline when its railtour program resumes. It has not run a railtour since 2019 due to the global pandemic but has been refurbishing some of its mark 1 coaches including First Open no. 3150 and Kitchen Car no. 1730 so that when railtours resume, its mk1 rake is in tip top condition. Also the overhauling of bogies and running gear has been taking place at its Bo'ness workshops in Scotland to bring these back to 'zero hours' condition. S.R.P.S. Railtours are expected to announce its 2021 railtour program soon.

To support the appeal: click here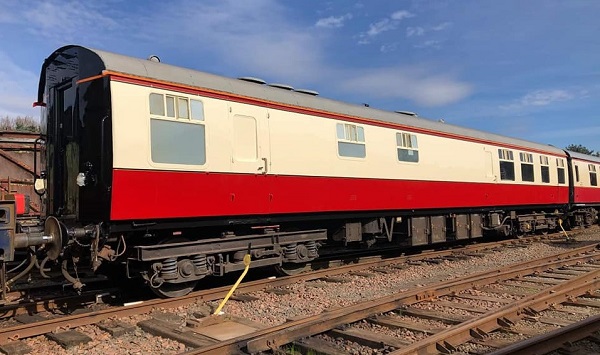 Newly repainted Mk1 Kitchen Car no. 1730 is seen at Bo'ness after bodywork repairs. Internal refurbishment
will now take place. Photo courtesy of the S.R.P.S.